DNA Amplification System™ (DAS™) detection kits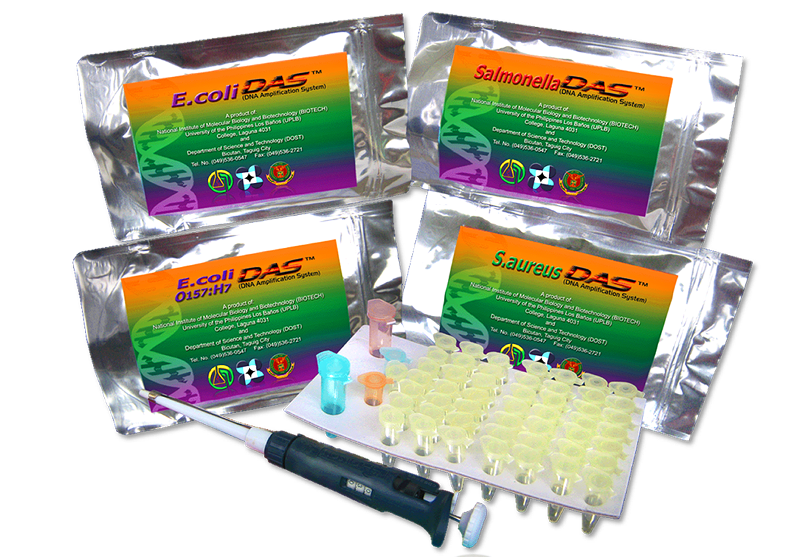 DAS™ are rapid kits that utilize Polymerase Chain Reaction (PCR) technology for the detection of bacterial pathogens in food, water and animal feeds.
Quantity: 30 or 100 reaction tubes/pack
Storage: -20oC freezer
Shelf-life: 6 months
Precaution: Avoid exposure to high temperature and direct sunlight
FREQUENTLY ASKED QUESTIONS
How was the PCR-based DAS™ detection kits developed?
The development of the detection kits arose from a conceptualized research program on molecular hybridization for rapid detection of economically-important microorganisms by a group of BIOTECH researchers. The R & D Projects for the PCR-based detection of E. coli, Salmonella, Staphylococcus aureus and Listeria spp. were then implemented with support from DOST, in addition to BIOTECH Core funding. The Salmonella DAS™ and Staphylococcus aureus DAS™ kits were each granted a patent on nucleic acid sequences and its use for detection by the Intellectual Property Office of the Philippines.
What are the benefits of using DAS™ kit?
Next-day results. It is faster than the conventional method which normally takes 3-5 days for confirmed tests
Pathogen specific, accurate and highly sensitive
Results are definitive so there is no need for confirmatory tests
Easy to use and applicable in analyzing bulk
How do you use DAS™ kits?
Steps involved:
a) Sample enrichment in the recommended medium
b) Collection, washing and lysing of cells
c) Addition of cell lysates to the DAS™ reaction tubes
d) DNA amplification in the thermal cycler machine
e) Agarose gel electrophoresis and viewing of products with UV light
The Director
UPLB-BIOTECH
biotech.uplb@up.edu.ph